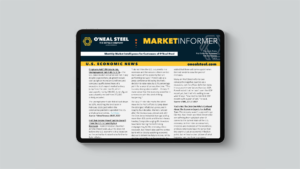 O'Neal Steel Market Informer

The April edition of the O'Neal Steel Market Informer is now available. Confidence in the U.S. economy ticked up in March, despite the sudden turmoil in the banking industry, according to the latest report from the Conference Board. Reshoring and foreign direct investment (FDI) job announcements for 2022 reached a new record of 364,000, a 53% increase from the previous year, according to the Reshoring Initiative's 2022 Data Report. Orders of big-ticket manufactured items ticked down in February on a slump in defense aircraft and parts, according to U.S. government data released March 24. The U.S. Environmental Protection Agency (EPA) has finalized new regulations aimed at limiting smog pollution from power plants and other industrial facilities in 23 states. Read more below.
You can view each month's Market Informer, on our blog, The Knowledge Tree.