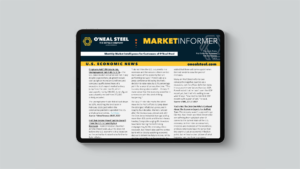 O'Neal Steel Market Informer

The March edition of the O'Neal Steel Market Informer is now available. The U.S. House of Representatives has introduced new legislation that could form a new bank to invest in future U.S. infrastructure projects. What do the CHIPS Act, the Infrastructure Act, and the Inflation Reduction Act mean for the future of manufacturing? Read more below.
You can view each month's Market Informer, on our blog, The Knowledge Tree.