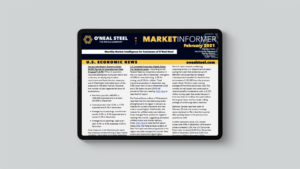 ISM Report Points To Manufacturing And Services Sector Growth In 2021
Coming off of 2020, which saw myriad ebbs and flows related to the ongoing COVID-19 pandemic, 2021 is expected to point in the direction of economic improvement, for both the manufacturing and services sectors, according to the new edition of the Institute for Supply Management's (ISM) Semiannual Economic Forecast, which was issued on January 19. Data for this report is based on feedback from U.S.-based purchasing and supply chain executives in manufacturing and non-manufacturing sectors.
For manufacturing, ISM is estimating a 6.9% annual increase in 2021 revenue, which trailed the 10.3% prediction made in the May 2020 edition of the report and topped the 1.3% annual decline for 2020. And 59% of the report's manufacturing survey respondents are calling for revenues to be up annually in 2021, with 15 of the 18 manufacturing sectors tracked by ISM pegged for revenue growth. The sector has been on an upswing going back to June 2020, and its December PMI®, the reading used by ISM to measure growth, coming in at its highest level since August 2018.
Manufacturing capital expenses (capex) are expected to see a 2.4% annual increase, which would counter the 2.4% decline, from 2019 to 2020. The 2.4% 2020 capex decline was considerably better than the projected 19.1% decrease in the May 2020 edition of the report. And the 29% of respondents indicating capex will rise in 2021 pointed to an expected average increase of 26.4%, with the 16% expecting capex declines predicting an average decrease of 32.7%, and 55% expecting capex levels to remain the same from 2020 to 2021.
Manufacturing capacity utilization, or operating rate, which came in at 85.7% of normal capacity, is up 9.8% compared to the 75.9% reading in May and also ahead of December 2019's 83.7% reading. Production capacity is pegged to see a 5.3% annual increase, which would outpace 2020's 0.5% annual increase.
Raw material prices are expected to be up 2.9% in 2021, topping the May 2020 forecast of a 1.6% decline. Manufacturing employment is expected to be up 2.5 in 2021, ahead of the May 2020 projection of a 5.3% decline, for 2020.
"The [manufacturing] revenue projection of nearly 7% is the highest one recorded since December 2016," said Tim Fiore, chair of the ISM's Manufacturing Business Survey Committee. "And the diffusion index [the 12-month outlook for manufacturing], at 77.8, is really strong compared to 2020's 59.1 and is the highest number since December 2017. Everything is looking very strong right now. There is optimism that profit margins will be better for the first half of the year compared to the second half of 2020, which indicates that demand has to be pretty good and people will be buying things." Fiore added that improved profit margins are anticipated in 2021, as well as gains for wages and employment, and also for exports and imports.
Services production capacity, or the capacity to produce products or provide services in this sector, eked out a 0.1% annual gain, from 2019 to 2020, and is expected to rise 3.2% in 2021. And services capex dropped 4%, from 2019 to 2020, with a major swing expected in 2021, in the form of a projected 12.7% increase, also well ahead of May 2020's projected 13.4% decline. Prices paid for raw materials in the services sector are expected to rise 3.5% for all of 2020, topping 2020's 2.3% tally. Services sector capacity utilization, or the operating rate, is now at 86.6%, topping the May 2020 reading of 73.3 and the December 2019 reading of 86.
"It looks like 2021 will be the start of another strong growth cycle for the services sector," said Tony Nieves, chair of ISM's Non-Manufacturing Business Survey Committee. "Overall, 2020 was bad, and back in May the respondents said it would be worse than compared to where it ended up based on the responses from December 2019. And going forward they are more optimistic…and are looking at 2021 being much better than anticipated, with the majority of that happening in the second half of the year."
Nieves pointed to the high 2021 capex projection—at 12.7%—which suggests there is strong confidence in the business community, from their respective industries.
Source: Modern Materials Handling, 01.19.2021
To continue reading more articles this month, check out our full O'Neal Steel Market Informer.
You can view each month's Market Informer, on our blog, The Knowledge Tree.