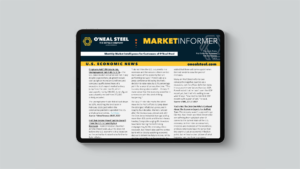 O'Neal Steel Market Informer

The January edition of the O'Neal Steel Market Informer is now available. Manufacturing readings improved at the end of 2022, indicating economic growth. Biden signed a defense bill which will also advance major infrastructure projects. Plus, the U.S. Department of Commerce issued several metals-related trade decisions. Read more below.



You can view each month's Market Informer, on our blog, The Knowledge Tree.